I haven't updated in a while, I got kind of busy about mid February and I kind of hit a wall with my building. I have still have a massive amount of parts that seem particularly impossible to sort through to build my sets. Thankfully, after seeing The Lego Movie and from a post on
The Brick Blogger
posting about the movie in the comments section, I was put it in the right direction. In the movie toward the end in the Dad's basement, I saw all these wonderful storage bins with drawers commonly used for tools that I thought would be perfect. In fact the size as pace of the whole set up would be magical to have, but more realistically, I needed those shelves. I've seen other kinds of shelves and they are made of a hard plastic and are rather expensive. I voiced these thoughts on that linked entry and the admin said that the shelving was quite easy to find at any department store. So, I did a search at Walmart and found the
Stack On 60 Drawer Cabinet
. I got paid and was getting ready to order one when they were out of stock online. So I googled it and found
the manufacterer's website listing
and there actually was a review from a Lego collector, so I knew it was perfect. Then I found a listing at
Kmart.com
for it and saw that I could actually order it and pick it up that day and it was $6 cheaper than Walmart's price. Unfortunately, my store only had one and I have since then been unlucky at getting more from Kmart at their current even cheaper price because they cancelled my order when I tried due to lack of stock. But they can be found all over the internet at varying prices and in varying different drawer counts. So, the way has been made to get this sorting done! Part of me is almost betting that as soon as I get all this ready, I'll have to move, which actually wouldn't be too terrible if I got to move where I want to move, which is back to this great apartment complex that had very spacious two-bedroom units that would be perfect for my set and my room and provide ample living room space and space for my cats. But they are $250 per month than I'm paying for rent now so I'll have to wait a while before I can handle that. Hopefully I"ll qualify for a raise in August that could contribute to that situation becoming a reality.
To help with my sorting project, I'm also making stickers for the drawers so I know what's in them. I've been finding the part listings at
Bricklink.com
and getting the thumbnail image to print on sticker paper.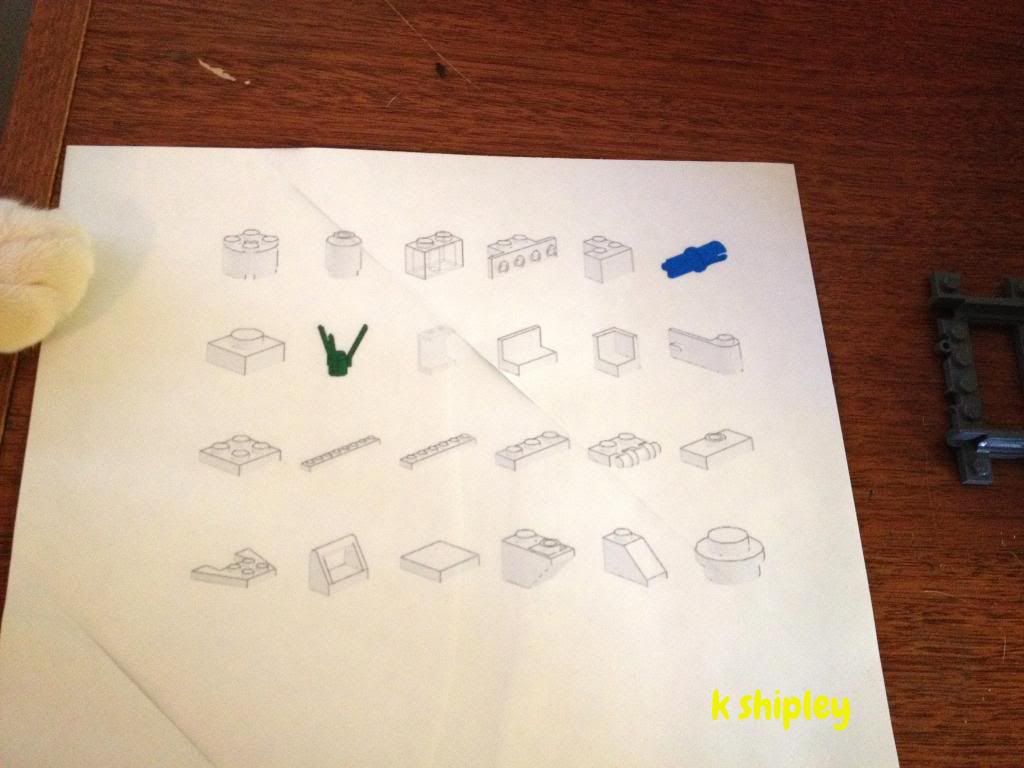 And then these stickers can be stuck to the front of the different drawers in the unit. I was going to complete all 60 drawers today but as hinted by the paw in this picture, my cats kind of got in the way. They were crying to come in or for me to come out of the Lego room. Also hinted in this picture is the next set I'm going to post on the blog which I would do with this entry but I think I like separating the sets, I wish I had done that in my previous entry but as you can tell I'm a noob at Lego and a noob at Lego blogging, so there will be some trial and error. Anyway, I hope I've helped someone with storage and sorting ideas and look forward to showing you one of my newer sets that I got for a really good deal recently.
Happy Building ^_^