Well, the sorting is coming along. I've gotten through the yellow brick sorting and have moved on to white. After white I will still have blue, the rest of the black, the greys, and a bunch of random colors I don't have a lot of. I recently decided to go public with my humble little amateur blog on some Facebook LEGO groups and within minutes of doing so, I found out that Lego does not like people using the word Lego in their domain names, which had a domain that pointed to the blog. LifeLibertyLego.com. At first I didn't think they were serious but then was directed to to LEGO's fair use play policy and saw it. Well, being that I love Lego and am loyal to the point of not even wanting to buy LEGO wannabe brands and some encouragement from other AFOLs, it seemed like the right thing to do was to change my web address and blog name whether I got caught or not. It's not as cool of a name but it will do. I hope to get a new domain name soon but to get the one I want is going to be a little more expensive than getting my old domain was.
This most recent set that I am showcasing, Set 7937 Train Station, I actually bought in February not long after my birthday, I found a good price for it at Toys R Us.com and knew it was being retired soon so I wanted to snatch it up.
Throughout the course of me showcasing sets and things, you will find that I have certain obsessions with certain types of sets and a couple of these obsessions were part of the draw for this particular set for me, but probably the biggest draw for me was the staircase bridge of this particular set.
Awesome staircase and bridge over the tracks!
Outside of train related LEGO sets being obsession that I have not indulged in a lot, I have a huge obsession with LEGO taxi cabs and as far as I know, there haven't been a lot of them, except a couple I've seen in a few idea books from the 80s. So, as soon as I saw this set had a taxi, it was a must have for me.
The set features a wonderful cast of minifigures to accompany the set. Admittedly this one particular minifigure stuck out to me. I think it was the glasses. That particular glasses face is one of my favorite face designs.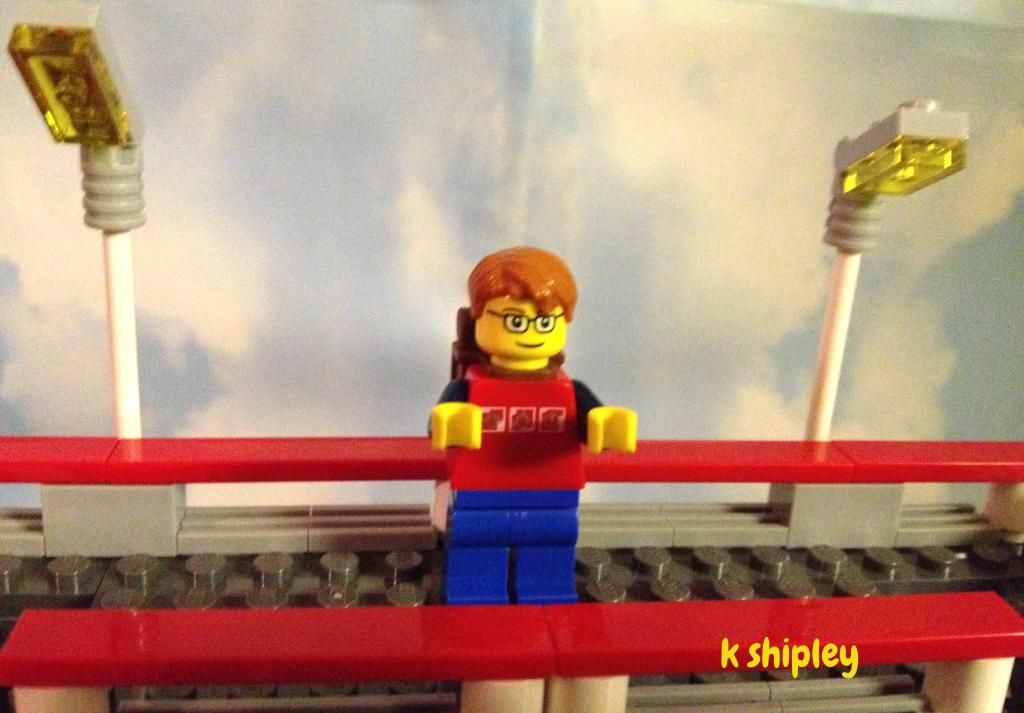 Conductor, Taxi Driver, and Travelers
And of course many other great features necessary for a good train station.
Catch up on some news while you wait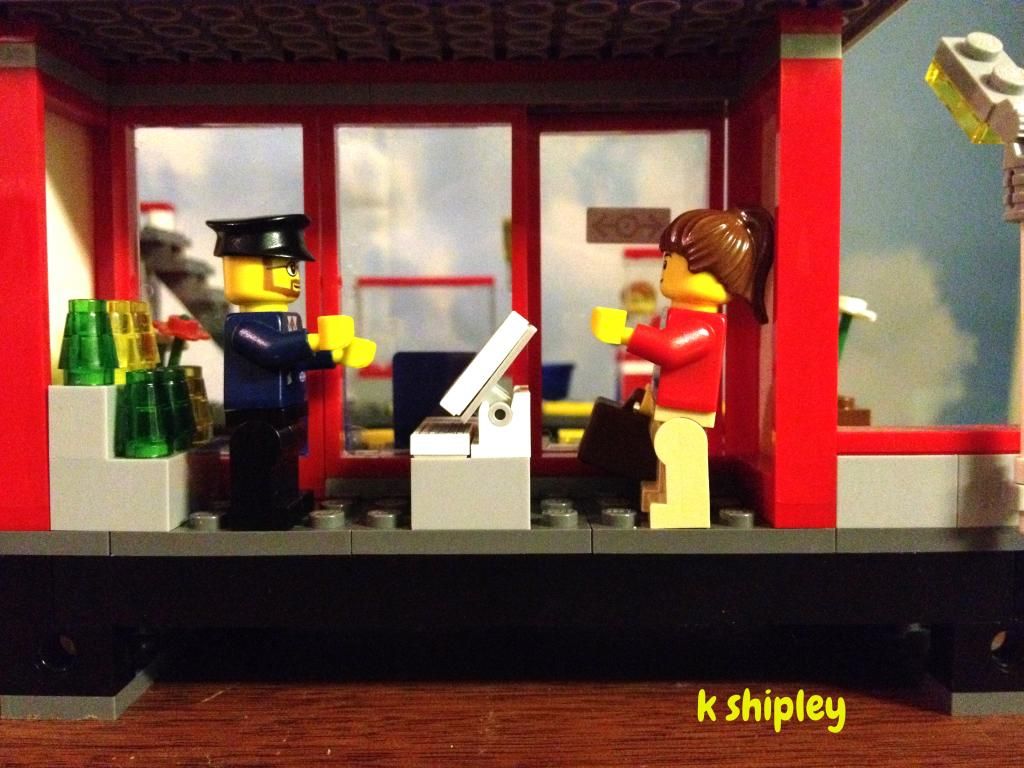 In other news, I actually found my only photographed MOC that I built 10 years ago back in the days when 3 megapixel cameras were like $300. I bought one for that price and for the purpose of photography Lego sets. But I didn't do much with it except this. It's a cute little Cafe / Coffee Shop that I definitely will rebuild as soon as I can. Pretty basic but I really like it. I have a fondness for the more basic and simpler times of Lego though I still enjoy a good amount of what is available today.
Lastly, I have my latest acquisitions from Bricklink and Amazon recently. I think they'll add a lot and be useful. The idea book is actually one that my brother has but I really wanted my own so I could use the stickers included with it and I actually found it with its stickers intact for only $10. Along with that order I got a cute looking cowboy minifigure. The others are pretty obvious. Two newer vehicles and then a retired Hot Dog stand mini set, will be showcased in the future. Anyway, Happy Building!!!!