I took another Lego break about a month or two ago to play video games, just to mix things up. But then Bricks By the Bay happened and now I am back in full swing.You will also notice a new URL and name for my blog. A while back I decided I didn't like "Brick-A-Brac." It wasn't very creative and had basically been made on the fly because I was getting some flack for having unknowingly violated LEGO's fair use policy in my original domain name. But today as I was sitting at work having thinking about the stuff I just ordered from Lego.com and aching to buy more and basically having Lego on the brain, realized I was a Legoaholic. But to follow fair use, I had to change it to Brickaholic. So, there you go. But I'm sure you want to know about the con, so I'll give you what I came up with.
I took 80 or so pictures, so to not have to post every single and to not have to pick my favorites, you can look at them all in a handy-dandy slideshow. I don't have a ton to report on the con, I liked it but it was smaller than I though it would be. I was mostly interested in the custom vendors but I didn't buy anything from them because I'm not sure what custom items I need yet since I haven't gotten in to MOCs and things. I went on public day as an early entry too so I didn't get to enjoy the cool things a registered attendee got to enjoy and I kind of skimmed a lot of it too because I felt a bit rushed by the person that came with me. We hadn't had breakfast yet. But it was still cool and I'd like to go back next year. I'm glad we went early too because the line to get in at the normal time even with tickets was terrible. I did get a bit of inspiration and motivation to work on acquiring items for my planned theme park build because in the pictures you will see several carnivals and rides and things. I had also spent the previous day at California's Great America. I'm definitely gunning for that Fairground Mixer now! And I'm gonna have to look into Technic and motors and things to create other rides.
I did stop at The Lego Store that was nearby and picked up some nice stuff. I had my first experience with the pick a brick wall and picked up an abundance of the "girl" colors and the brighter colors you don't see much of. I also enjoyed the minifigure station again and got a cool accessory I don't have. They had these pastel guitars that I imagine probably come from Lego Friends or something, but I grabbed one for each of my minifigures since they were such a unique item. I like the minifigures I put together AAAAND I finally picked up the Ghostbuster set, so that's exciting! I haven't put it together yet because I'm trying to make space among the parts to put together finishes sets, but that will be getting an overhaul sometime hopefully in the next week by next weekend because I bought some plywood that's going to serve as the flat portion for under the tables where I will expand things. I also made my first BrickForge order which I"m excited about and made a rather sizable purchase from Lego.com. All things I will showcase in due time. Anyway, that's about it. Happy Building!!!
The haul!!! You can also see that I have a uniform sky and cloud background now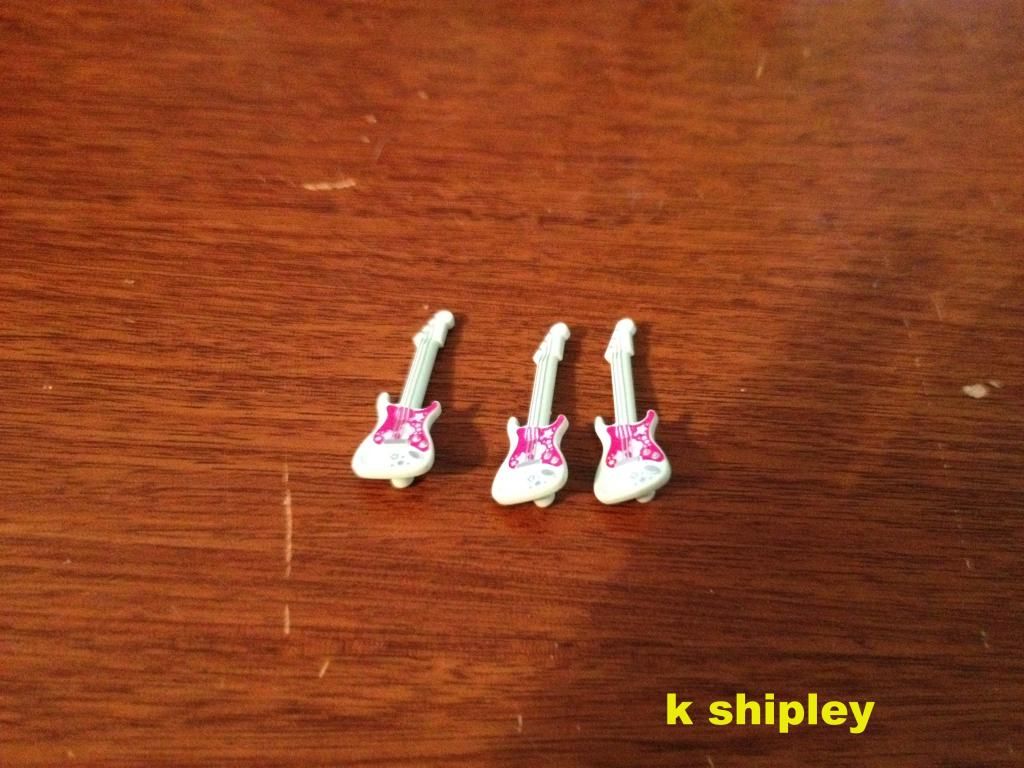 The guitars! I see a "girl" band in my future!
This guy is my favorite of the three. I loved his torso when it came with the balloon cart. I see this guy as an antique dealer or jewelry store owner.
This was a fun one too. I think of her as a kind of freshmen reporter. She actually makes me think of Drew Berrymore's character in Never Been Kissed even though she doesn't really look like her. If she becomes a prominent member of Legoland I might name her Josie Grossie after the nickname of that aforementioned character Josie Gellar.
She's a really fun one too. I think of her as kind of the hot action movie star that all the men in Legoland oggle over, almost maybe like an Angelina Jolie or something.
I'm not in to Space but this was one of the coolest displays there.